Welcome to our culinary journey, where we embark on a quest to discover the epitome of taste and flavor in the world of meat. Amongst the exotic meats and the myriad choices of succulent cuts, we focus our attention solely on the crème de la crème of carnivorous indulgence: the steak.
In this exploration, we delve deep into the realm of mouthwatering beef delicacies, setting aside poultry smoked pork, and other meats to concentrate exclusively on the incomparable experience that only the finest steaks can provide. Join us as we savor the tenderness, savoriness, and sheer delight of what is considered the Best Meat in the World – a celebration of prime, unparalleled steak perfection.
The Best Meat in the World is in Spain
We know José Gordón from long time ago, a restaurateur from the little town Jiménez de Jamuz in northwest Spain, in Castile and León province – the region offers a rich flavor varied culinary landscape –  , whose crazy personal project, Bodega El Capricho, shook up locals and the entire world more than a decade ago.
In the captivating realm of culinary exploration, we found ourselves deeply enamored with José Gordón's farm-to-table approach, his coherent madness, infectious smile, and generous spirit. Our hearts were instantly drawn to this almost mystical project, leaving us with an unyielding desire to share this extraordinary experience with our readers and travelers, those who have allowed us to take them on an enchanting voyage through Madrid & Castile, where they will become an integral part of this profound endeavor. In this article, we unravel the magic behind Gordón's vision, delving into the heart of his philosophy that elevates the ordinary to the extraordinary.
The Time was among the first to mention Gordón in 2007 on the article Where's the Best Beef? and two years later The Guardian listed El Capricho as One of the 50 Best Things to Eat in The World. More recently – in July 2018 – The Wall Street Journal talked about him again! If you haven't seen the documentary Steak (R)evolution by Franck Ribière, you should. Years of consistency in pursue of excellence, tones of passion and an affable character have been key to make Gordón one of the best beef breeders worldwide
The Secrets of the World'd Best Meat
In the pursuit of unparalleled meat perfection, three pivotal factors emerge, elevating certain cuts to claim the title of "The Best Meat in the World." These crucial elements encompass exquisite flavor, tender texture, and ethically-sourced, premium quality, making for an unrivaled gastronomic experience.
The place: a hundred-year-old cave owned by the family for several generations that has been dug out inch by inch by the effort of his family, with unique nooks and crannies; there is exactly where the tables are set. Wine connoisseurs are in for a treat at Bodega el Capricho with the newest addition of its stunning cellar and superb selection of local and international wines, it's no wonder that his cellar is quickly becoming one of the region's favorite spots.
The man: unlike other grills, José does not depend on any particular slaughterhouse, he looks for animals in the Iberian Peninsula that graze freely and buys them, leaving them indefinite times in which they reach unthinkable weights. He likes old working beefs that have been subjected to hard work of shooting and have a considerable weight. They can reach up to 1,600 kilos (over 3,500 pounds). He likes to have them close, to personally supervise them and feed them so that they achieve high quality fats. He sometimes keeps them for three or even four years! Is the business profitable? Not always, but for this beef-obsessed man quality is first.
The maturation: once the beef reaches the optimum weight and level of fats, the animal is slaughtered and transported to his chambers where they stay for long periods.In some cases they can be there for two or three months, something unimaginable in other animals that are served (with good judgment) with 35 to 40 days of maturation.
The Ultimate Ox Experience
Undoubtedly the star piece is the premium ox, very often from Galician blonde (rubia gallega Spanish breed), matured more than 60 days, with an almost golden-fat greatly marbled in the muscle. The cut is first brought to the table and then, roasted on a two-level grill, fed with oak charcoal, cooked and finally sliced on the table. Another house specialties that deserve to be mentioned are the tasty and delicate beef tartare (on the picture below), or the yummy and superb ox cecina (salty-dried leg meat).
What is an ox
Despite its historical significance as a working animal, ox meat is not a popular meat and is not commonly found on menus, mainstream markets or in a grocery store like waygu beef or lamb meat are. But an ox is a domesticated bovine, a castrated male cow, that has been trained to work as a draft animal. These strong and powerful animals are often used for plowing fields, pulling carts, and other heavy labor tasks in agriculture and transportation. Oxen have been utilized as working animals for centuries and have played a significant role in shaping human civilization, particularly in agricultural societies. Due to their size, strength, and docile nature, they have been invaluable companions in various parts of the world for centuries.
The oxen from El Capricho are some of the most sought-after meats in the world. They are raised on a varied diet of grass and hay, and they are allowed to roam freely in the countryside. This ensures that the oxen are healthy and well-fed, and that their meat is of the highest quality. Their average age is seven year-old; the result is a red meat, that is intense, flavorful, and long-lasting.
The oxen from El Capricho come from ancient Iberian breeds only that are known for their hardiness – that is transformed into a tasty and tender meat through an impeccable aging -, intense flavor, and marbling. These breeds have been carefully selected personally by José Gordón, who is dedicated to providing his customers with the best possible product.
El Capricho is committed to animal welfare, and they only source their meat from farms that meet their strict standards. The oxen are treated with respect and care throughout their lives.
The oxen from El Capricho are a testament to the dedication and passion of the people who raise and care for them. They are a culinary delight that is sure to impress even the most discerning palate.
What are the Most Consumed Meats Around the World?
We have been obsessed with meat for nearly two thousand years. Early prehistoric humans grew up for plant food that was very difficult in Because we have so much of a digestion effort our brain remains very thin. Around 2,000 years ago Homo started regularly scavenging. Gradually, the switch from foraging to consuming food has made the human brain grow larger.
The most widely consumed meats across the globe include chicken, pork, and beef. These protein-rich staples have woven themselves into the culinary fabric of cultures worldwide, nourishing and delighting palates with their versatility and flavors. While preferences vary, these meats consistently top the charts, reflecting our collective love for diverse and savory protein sources.
Beef: The Best Breeds for a Mouthwatering Meal
Beef is the most common type of meat consumed in the world, it is a delicious and versatile protein that can be enjoyed in many different ways. But not all beef is created equal. Some breeds are better than others, and some types of meat are even considered to be the best of the best.
If you're looking for top-quality beef, here are a few brands that you should definitely check out:
Pika Janjetina: This Slovenian brand is known for its high-quality, free-range beef. The cattle are grass fed, and they are slaughtered at a young age to ensure that the meat is tender and has an intense flavor.
Magyar Szürkenkara: This Hungarian breed is known for its high-quality, marbled beef. The cattle are raised on a diet of grass and hay, and they are allowed to roam freely in the countryside. The meat is tender and flavorful, and it has a high fat content that gives it a rich, buttery taste.
Caçaro do Estaço: This Azorian beef breed is known for its high-quality, flavorful beef. The cattle are raised on a diet of grass and hay, and they are allowed to roam freely in the countryside. The meat is tender and flavorful, and it has a slightly gamey taste.
Anger Angus: This American brand is known for its high-quality, marbled beef. The cattle are raised on a diet of grass and hay, and they are allowed to roam freely in the countryside. The meat is tender and flavorful, and it has a high fat content that gives it a rich, buttery taste.
Argentina Beef: Argentina is known for its high-quality beef, and there are many different brands to choose from. Some of the most popular brands include La Pampa and Don Julio.
Wagyu:

This Japanese breed is known for its high-quality, marbled beef. The cattle are raised on a diet of grain and hay, and they are massaged and fed beer to produce the distinctive marbling in the meat. The meat is tender and flavorful, and it has a high fat content that gives it a rich, buttery taste.

Scottish Beef: This type of beef is known for its high quality and flavor. Scottish cattle are raised on a diet of grass and hay, and they are often allowed to roam freely in the countryside. This results in a tender, flavorful beef that is well-marbled.
There more excellent beef breeds, but this is quiet representative of meats in the world of maximum quality.
Kobe vs Ox
Everyone knows Kobe, a pinnacle of culinary excellence, a favorite meat that hails exclusively from the Hyogo Prefecture of Japan, where Wagyu cattle are raised with unparalleled care and attention. Renowned for its exquisite marbling, Kobe beef delights the palate with its tender, buttery texture and an unparalleled umami flavor that captivates meat connoisseurs worldwide. So ox and kobe are two different meats in all senses, let's focus on the two more important:
1. Marbling and Taste:
Ox Meat at El Capricho: The meat from ox at El Capricho is known for its intense and robust flavor. The oxen's age and lifestyle contribute to its deep, earthy taste, and the meat tends to be leaner with a more pronounced beefy flavor.
Kobe Beef: Kobe beef is celebrated for its remarkable marbling, where the fat is evenly distributed throughout the meat. This marbling gives Kobe beef a luxurious, buttery texture and a rich, delicate flavor with a subtle sweetness and umami notes.
2. Availability and Price:
Ox Meat at El Capricho: El Capricho's ox meat is difficult to find and is mainly served at the restaurant itself or through select suppliers. While still considered a specialty item, it may be more readily available in certain areas of Spain, but it's still f

lying under the radar in the global marketplace

.
Kobe Beef: Kobe beef remains a rare and highly sought-after delicacy.

Widely recognized

, the demand is higher and overpasses production. It is primarily available in select restaurants and specialty markets, and its exclusivity often commands a premium price.
In summary, the meat from ox at El Capricho and Kobe beef each boast distinct characteristics and flavor profiles. El Capricho's ox meat is known for its robust taste and lean meat, while Kobe beef is celebrated for its exceptional marbling and delicate, melt-in-your-mouth texture, making both of them exceptional and highly prized choices for discerning meat enthusiasts.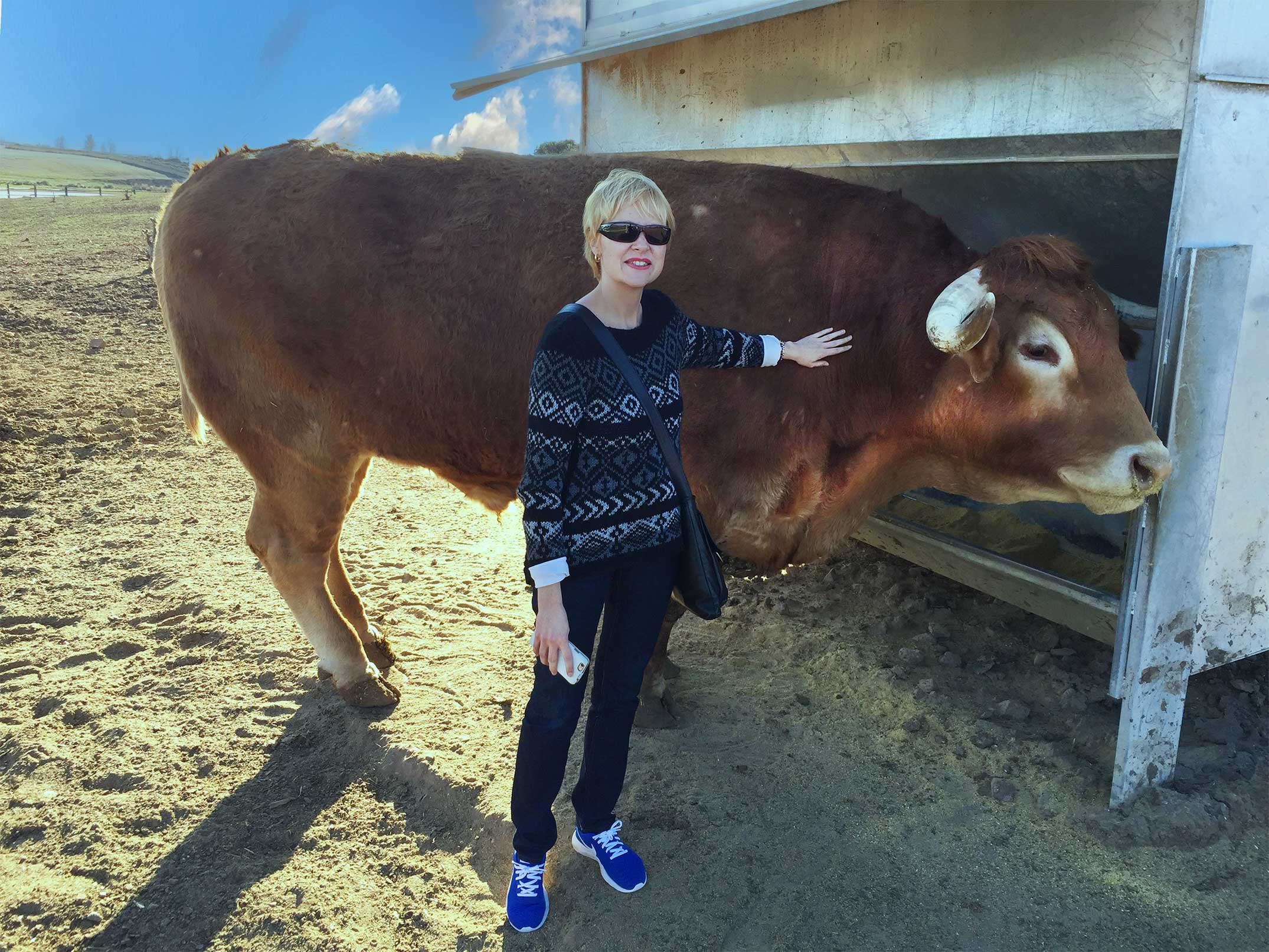 Culinary Epiphany: Savoring the Marvels of the best world's meat
From the moment we encountered the carefully selected oxen and witnessed the meticulous aging process, we knew we were in for a gastronomic delight like no other. The long maturations have resulted in a tantalizing tenderness, complemented by the deep, robust flavors that only time and care can create.
El Capricho's commitment to sustainable and traditional practices is evident in every bite, where the marriage of age-old techniques and a profound respect for nature elevates each dish to a true masterpiece. The unique character and exceptional quality of the ox meat leave an indelible impression, making it a sought-after delicacy for those fortunate enough to experience it.
As we bid farewell to this culinary adventure, we take with us the memories of sumptuous feasts and the knowledge that a world of gastronomic marvels awaits for those willing to embrace the wonders of matured ox meat at El Capricho. With each visit to this extraordinary realm of flavors, we discover new depths of appreciation for the craftsmanship and dedication behind this culinary gem. It is a final taste of a journey we shall forever cherish, and an invitation to all to savor the symphony of tastes that can only be found in this remote spot.
RELATED CONTENT