As a devoted foodie, I am completely enamored by the rich tapestry of flavors that Moroccan cuisine offers, and its evident Mediterranean influences only heighten my admiration. The harmonious blend of fresh herbs, aromatic spices, and diverse textures truly resonates with my palate, making each bite a testament to Morocco's culinary prowess.
Moroccan cuisine offers a symphony of flavors and aromas that will leave your taste buds dancing with delight. From the rich, succulent tagines to the flaky msemen, every dish is a celebration of culinary techniques and ingredients that have been perfected over centuries. Join me on a mouthwatering journey through 25 traditional Moroccan dishes that showcase the diverse tastes and textures of food in Morocco, a vibrant and enticing cuisine.
Moroccan Cuisine: A Blend of Flavors and Cultures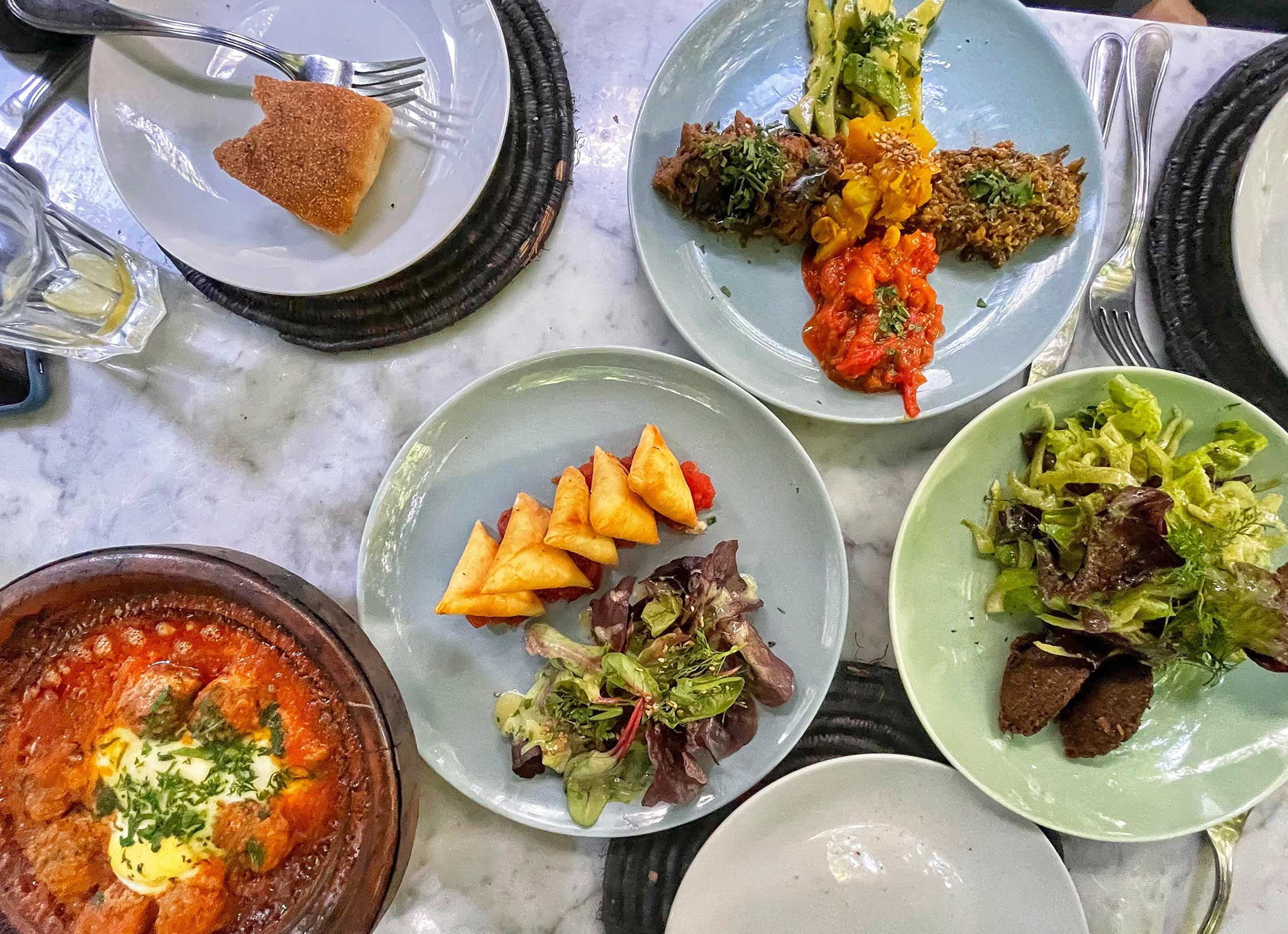 Morocco has a rich and diverse cultural history shaped by various influences over the centuries. The country has been home to several cultures, including indigenous Berber cultures, Arab-Islamic influences, and contributions from various Mediterranean, African, and European civilizations. The history of Morocco includes periods of Phoenician and Carthaginian influence, Roman rule, Islamic Arab influence, Islamic Berber dynasties, and later interactions with Ottoman and European powers.
The amalgamation of these cultural influences has created a unique and vibrant cultural tapestry in Morocco, evident in its traditions, architecture, cuisine, music, and art.
Moroccan cuisine is a veritable feast for the senses, with each dish telling a story of the country's rich history and diverse cultural influences. From the fragrant spices of Berber markets to the fresh herbs and aromatics of Mediterranean gardens, every bite of Moroccan food is a testament to the country's culinary heritage.
Whether you're savoring slow-cooked tagines, fluffy couscous, or crisp, golden pastries, you'll find a world of flavors waiting to be discovered in this land of contrasts.
The Role of Spices in Moroccan Cooking
Morocco has a long history of spice trade and usage, and the origin of the spices in Moroccan cuisine can be traced to various sources. The country's location at the crossroads of Africa, Europe, and the Middle East has played a significant role in shaping its culinary traditions and spice palette.
Morocco's spice palette is a blend of indigenous flora, historical trade routes, Arab-Islamic influence, Moorish legacy, global trade networks, and Berber heritage. Indigenous plants like cumin, coriander, and mint flourish locally. Historical trade routes, including trans-Saharan and maritime exchanges, brought diverse spices like cinnamon and cloves. Arab-Islamic influence introduced flavors like saffron, while the Moorish legacy added ingredients such as almonds and citrus fruits. Morocco's participation in global trade networks expanded its spice repertoire, integrating influences from Asia and the Americas. The Berber people's culinary traditions, rooted in local herbs and spices, have also played a significant role. The resulting spice mix, including cumin, coriander, cinnamon, and saffron, defines the unique flavors of Moroccan dishes like tagines and couscous.
Some of the key spices used in Moroccan cuisine include cumin, coriander, cinnamon, ginger, paprika, saffron, and various herbs like mint and parsley. These spices contribute to the distinctive flavors and aromas that characterize Moroccan dishes, such as tagines and couscous.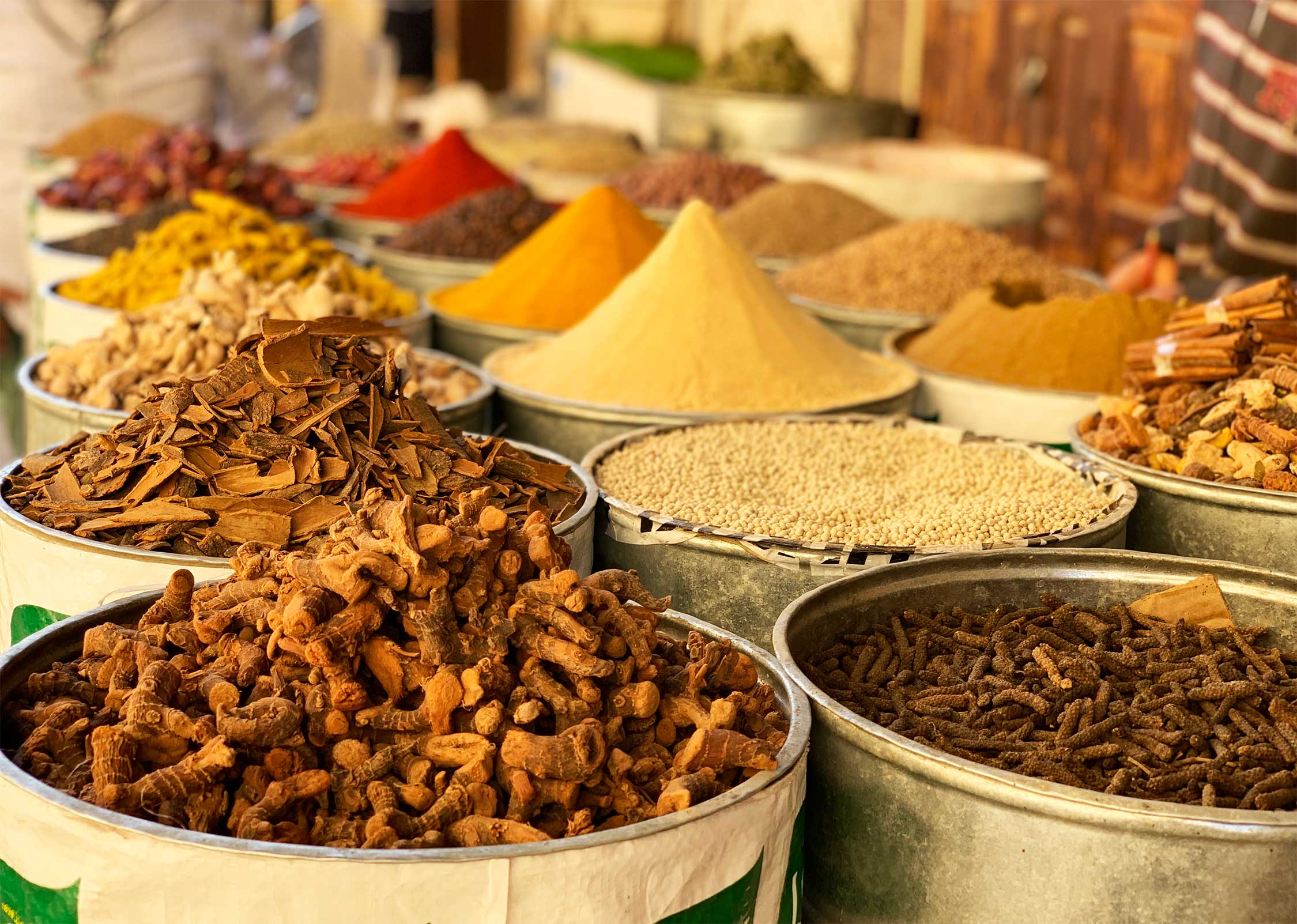 These spices not only add depth and complexity to traditional dishes, but they also hold the key to unlocking the secrets of ancient culinary traditions, such as the tantalizing snail soup that is sure to delight adventurous palates.
Fresh Herbs and Aromatics
The vibrant green hues of fresh herbs and aromatics are an essential element of Moroccan cuisine, providing a burst of flavor and freshness to balance the earthy warmth of the spices. Cilantro, parsley, and mint are just a few of the fragrant herbs that can be found growing in Moroccan gardens, ready to be plucked and added to dishes like Zaalouk, Harira, Bissara, Tanjia, and Chermoula. These aromatic herbs not only enhance the taste of Moroccan dishes, but they also offer a tantalizing glimpse into the country's lush Mediterranean landscapes.
Cooking Techniques and Traditions
Moroccan cooking techniques are diverse and full of flavor, using methods such as steaming, grilling, baking, and frying. These techniques not only bring out the best in the ingredients but also create a variety of textures and flavors that make Moroccan cuisine truly unique. Additionally, the combination of sweet and savory elements is a distinctive characteristic of Moroccan cuisine, resulting in a unique symphony of tastes in every dish.
From the slow-simmering tagines to the hand-rolled couscous, traditional Moroccan cooking techniques are a testament to the country's rich culinary heritage. The tagine, a cone-shaped clay cooking pot, is perhaps the most iconic symbol of Moroccan cuisine, its unique design allowing for slow cooking over low heat and creating tender, succulent dishes.
Couscous, the national treasure of Morocco, is painstakingly prepared by hand, the semolina grains rolled and steamed until they reach the perfect fluffy consistency. And let's not forget about the communal wood-fired ovens that produce the crusty Moroccan bread, essential for scooping up every last morsel of deliciousness.
Tagine: The Quintessential Moroccan Dish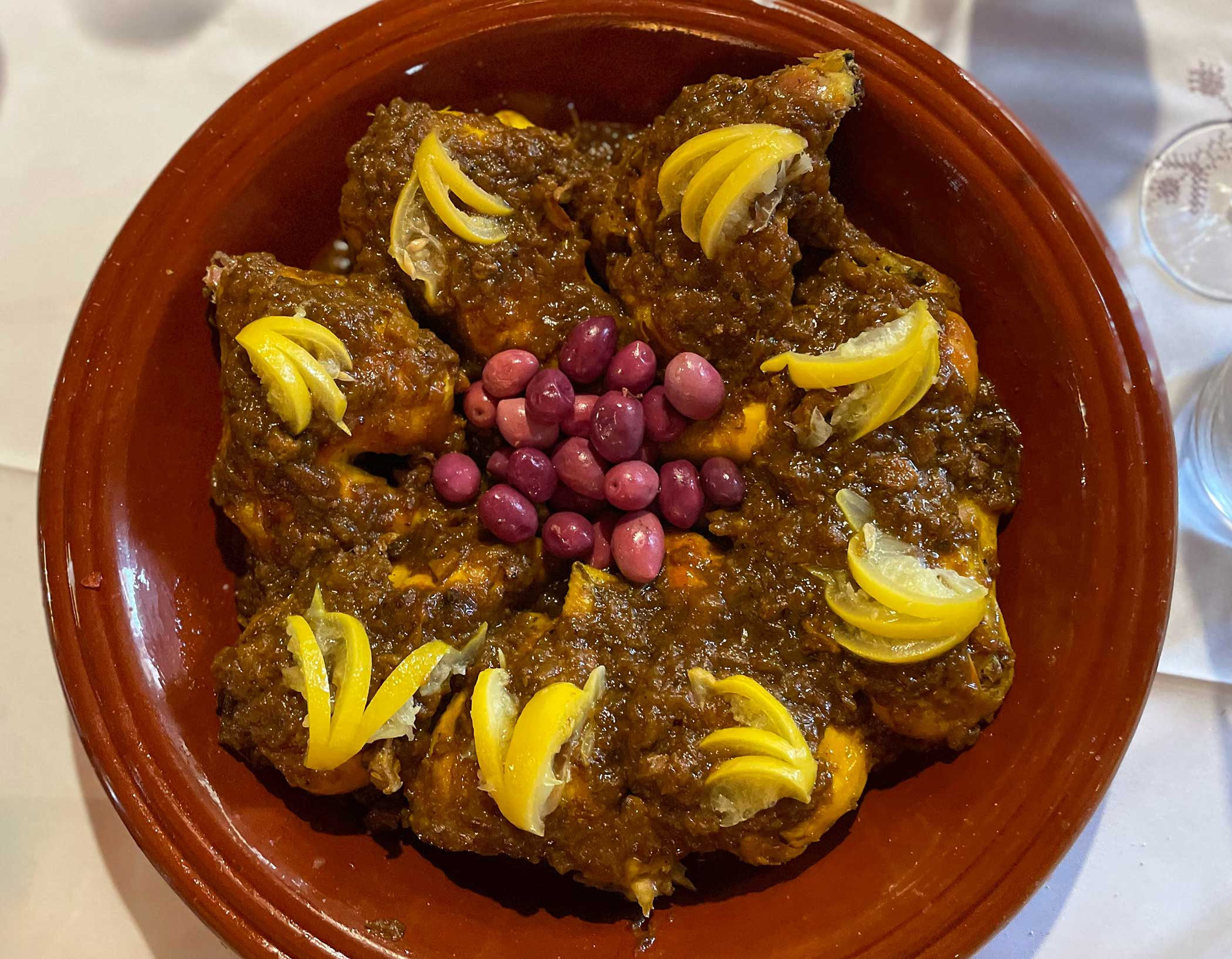 A trip to Morocco would be incomplete without indulging in the country's most famous dish, the tagine. This slow-cooked masterpiece is named after the clay pot it's cooked in, featuring a conical lid that traps steam and returns the condensed moisture to the dish below. The result? Tender, melt-in-your-mouth morsels of meat or fish and vegetables infused with a symphony of spices, just waiting to be devoured. Despite the numerous tagines you'll encounter, remember, it's not about having the same dish repeatedly!
Dive into the diverse world of tagines, understanding all the regional variations that define this quintessential Moroccan dish.
Types of Tagines
The world of tagines is as diverse as the Moroccan landscape itself, with each region putting its own spin on this iconic dish. From the succulent Chicken Tagine with Herbs and Harissa Olives to the hearty Root Vegetable and Cauliflower Tagine with Parsley Yogurt, there's a tagine to suit every palate.
Seafood lovers can dive into the flavors of Shrimp Tagine or Moroccan Fish Tagine, while those with a sweet tooth will be captivated by the Beef Tagine with Prunes. And for the vegetarians out there, the Moroccan Vegetable Tagine will not disappoint, showcasing the fresh produce that is at the heart of Moroccan cuisine.
Tagine's cooking secret
Tagines are culinary masterpieces that are slow-cooked to perfection, allowing the ingredients to meld together and create a rich, flavorful sauce. The key to a successful tagine lies in the cooking process, which involves simmering the ingredients over low heat for an extended period of time.
Fresh herbs like cilantro and parsley provide an added layer of flavor, while the chopped preserved lemon rind adds a tangy twist. To achieve the perfect balance of taste and texture, tagines are often served with a side of crusty Moroccan bread to soak up the delicious sauce.
Regional Variations
As diverse as the Moroccan landscape, regional variations of tagine can be found throughout the country, each reflecting the unique flavors and culinary traditions of its people.
In the bustling city of Marrakech, the iconic Tanjia takes center stage, with its tantalizing mix of lamb or beef, spices, and slow-cooking in a clay pot.
Venture further afield, and you'll discover tagines that showcase the best of local ingredients, from the succulent seafood of coastal regions to the earthy vegetables of the mountainous interior. or the extraordinary goat tagine that can be found in the Atlas Mountains in the Sahara.
No matter where your Moroccan adventure takes you, there's a tagine waiting to be savored – it's something you simply cannot leave Morocco without experiencing.
Couscous: Morocco's National Treasure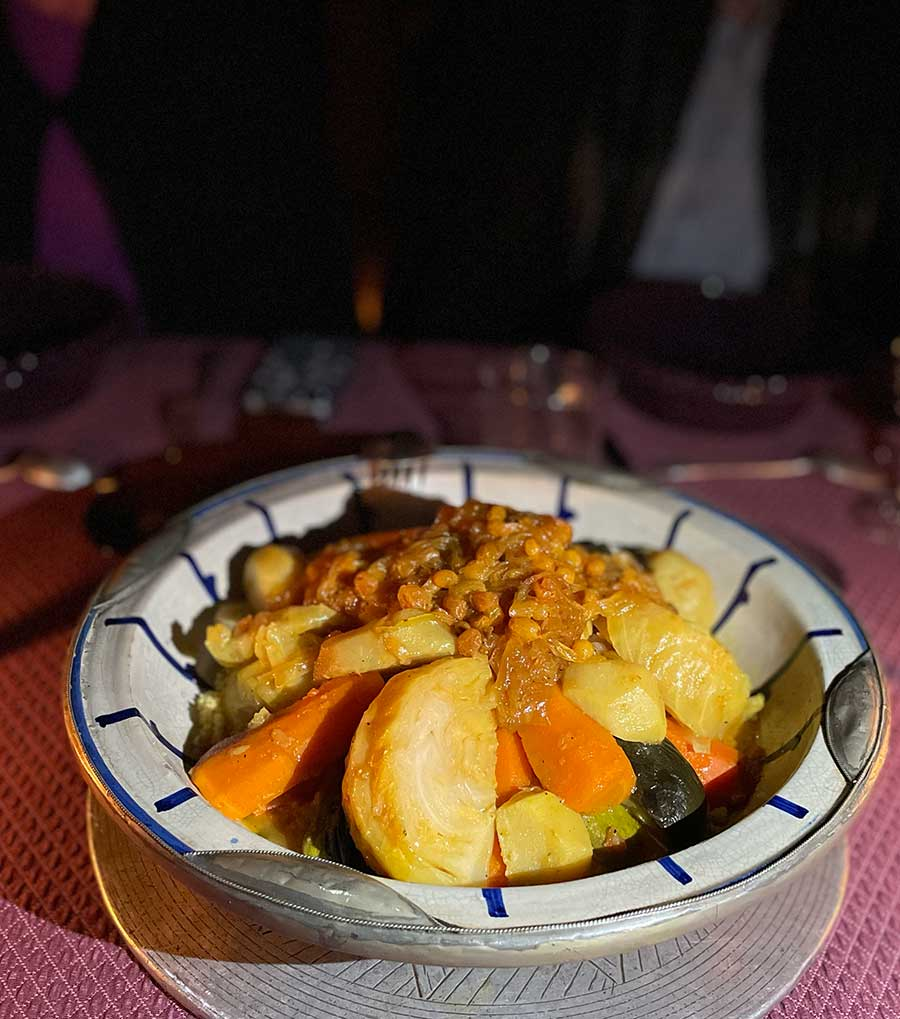 When it comes to Moroccan cuisine, couscous is a dish that stands tall as the nation's culinary pride and joy. This delicate, fluffy grain is made from steamed semolina and is often served as a base for mouthwatering meat or vegetable stews. Couscous has been recognized as an Intangible Cultural Heritage of Humanity, and its popularity extends far beyond the borders of Morocco.
Discover the intricacies of hand-rolling couscous, learn about traditional accompaniments and serving styles, and explore contemporary interpretations of this iconic dish.
Preparing Couscous by Hand
Traditional Moroccan couscous is a labor of love, prepared by hand using a technique that has been passed down through generations. The process involves:
Spreading coarse semolina on a large tray and sprinkling it with water
Rolling the grains between the palms of the hands until they reach the desired size
Steaming the couscous to achieve a light, fluffy texture that is perfect for soaking up the flavors of the accompanying stew.
The art of hand-rolling couscous is a testament to the skill and dedication of Moroccan cooks, who have perfected this technique over centuries.
Traditional Accompaniments and Serving Styles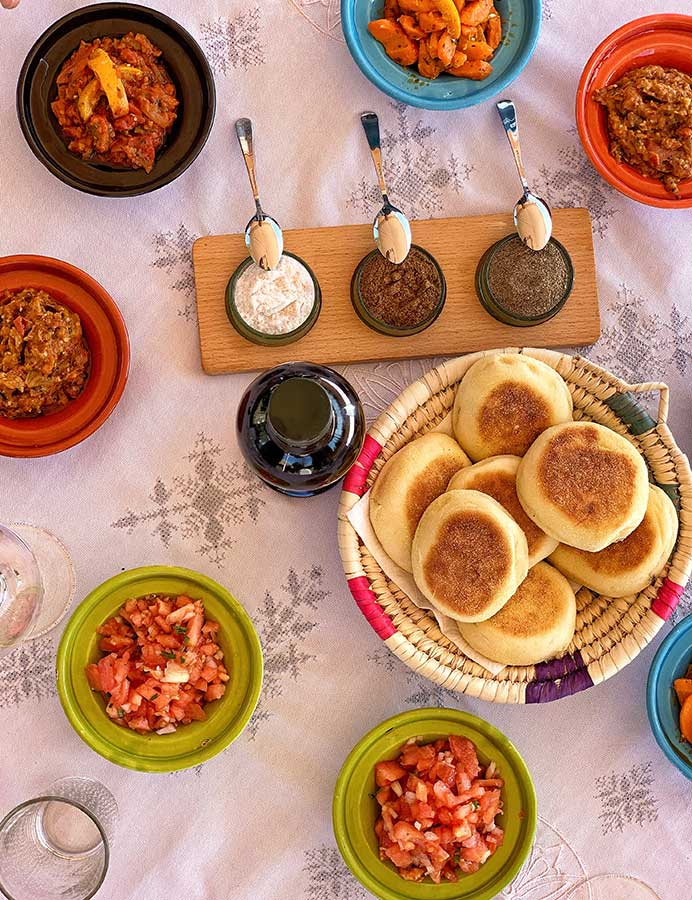 Couscous is traditionally served in a communal dish, its mound-like shape adorned with tender meat or vibrant vegetables and accompanied by a flavorful sauce. The dish is often enjoyed during special occasions, such as weddings or religious celebrations, with guests gathered around the table to share in the delicious feast. In Morocco, it is customary to eat couscous with the right hand, using the thumb and first two fingers to form a small ball that is then dipped into the sauce and savored. This communal dining experience not only showcases the flavors of Moroccan cuisine but also reflects the warmth and hospitality of its people.
Modern Takes on Couscous
While traditional Moroccan couscous continues to hold a special place in the hearts of food lovers, modern interpretations of this versatile dish can also be found both in Morocco and around the world. From couscous made with stock for a richer taste, to Mediterranean couscous salads bursting with fresh vegetables and herbs, there's a version to suit every palate.
Other exciting takes on couscous include pearl couscous, various couscous recipes, and chicken couscous with Moroccan spices. These contemporary twists on a classic dish showcase the adaptability and creativity of Moroccan cuisine, proving that the humble couscous grain can be transformed into a world of culinary possibilities.
Savoring Moroccan Soups and Stews
Harira, one of the most popular Moroccan soupsAs the sun sets and the evening call to prayer echoes through the streets of Morocco, locals gather in homes and restaurants to break their fast or enjoy a hearty meal. Moroccan soups and stews are the perfect accompaniment to these occasions, their warming flavors and satisfying textures providing comfort and nourishment.
From the fragrant Harira soup enjoyed during Ramadan to the slow-cooked Tanjia of Marrakech, these Moroccan foods showcase the best of Moroccan cooking and its mastery of herbs, spices, and fresh ingredients.
Harira: A Ramadan Staple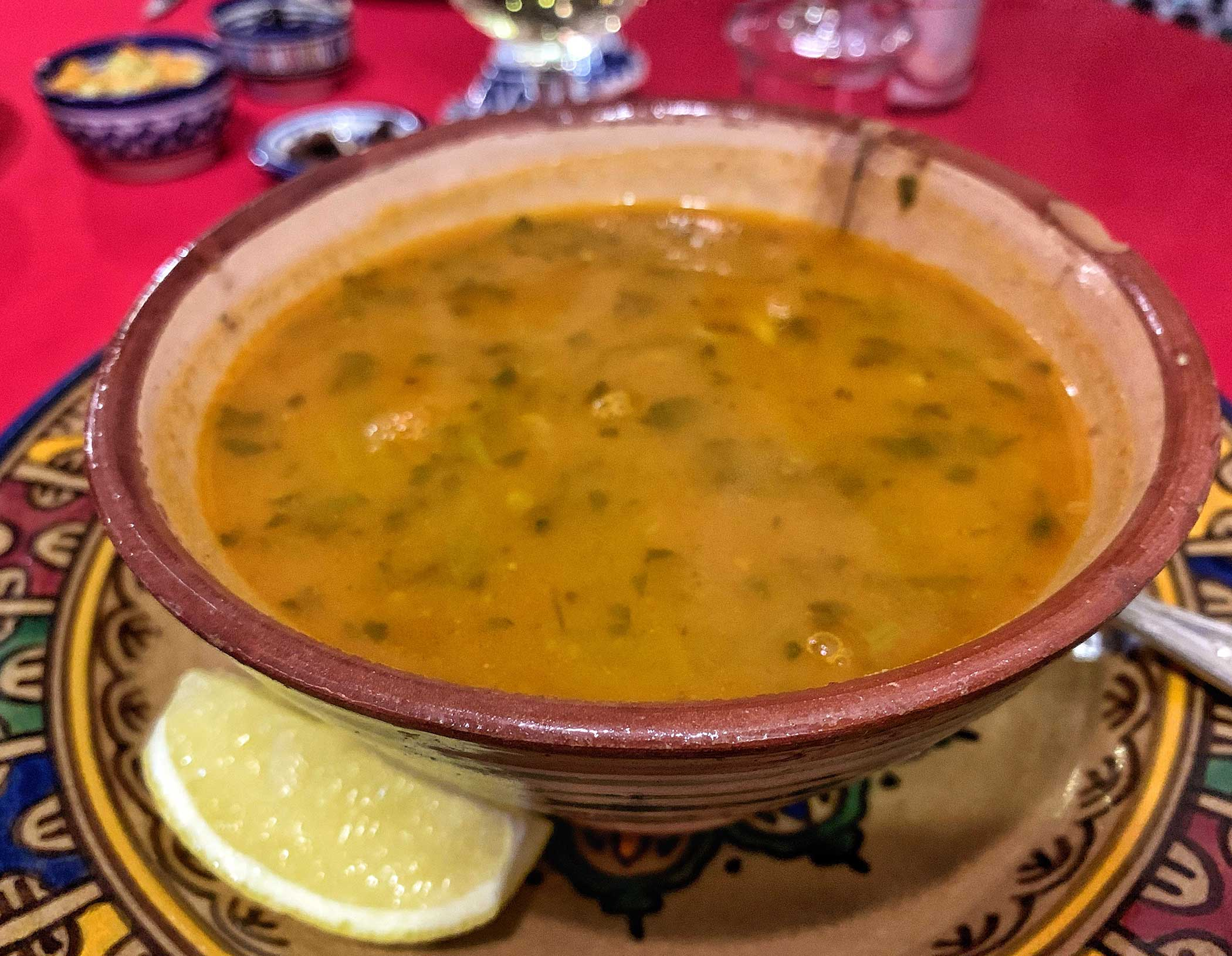 Harira is a symbolic and nutritious tomato-based soup enjoyed by Moroccans during the month of Ramadan. Made with lentils, chickpeas, and tender pieces of meat, this hearty soup is traditionally consumed at sunset to break the fast.
The combination of aromatic spices, fresh herbs, and nourishing ingredients make Harira not only a delicious meal but also a testament to the importance of food in Moroccan culture and religious celebrations.
Bissara: Fava Bean Delight
Bissara is a delicious and warming fava bean soup that is often enjoyed during the colder months. Made with dried fava beans, garlic, and a blend of Moroccan spices, this simple yet flavorful soup is the perfect comfort food for those chilly evenings.
Typically served with a drizzle of olive oil and a sprinkle of cumin, Bissara is a testament to the versatility and creativity of Moroccan cuisine.
Tanjia Marrakchia: Marrakech's Slow-Cooked Specialty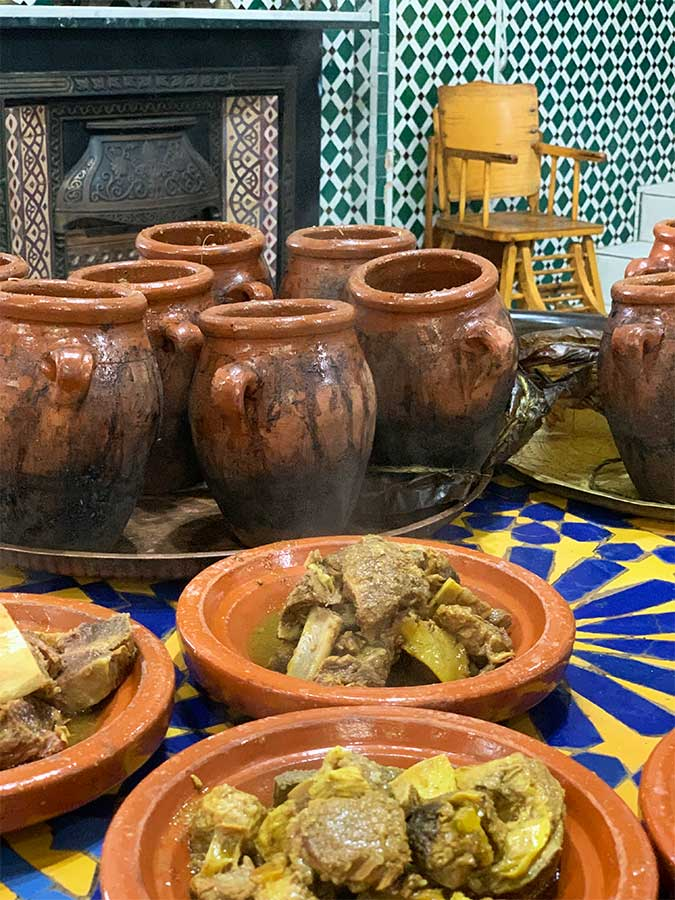 A visit to the vibrant city of Marrakech would be incomplete without experiencing its iconic dish, Tanjia. This slow-cooked specialty features tender cuts of lamb or beef, combined with a tantalizing mixture of spices and cooked in a clay pot. Traditionally prepared by men, Tanjia is a dish that embodies the spirit of Marrakech, its unique flavors, and culinary traditions.
The slow-cooking process allows the ingredients to meld together, creating a rich and mouthwatering dish that is truly unforgettable.
Moroccan Culinary Artistry: Pastilla and Rfissa
Among the myriad treasures of Moroccan cuisine, two dishes stand out, each weaving a tale of tradition and flavor: the Pastilla and the Rifissa (also known as Tride).
The Pastilla's Delicate Dance of Flavors
The Pastilla, a culinary masterpiece, is a savory-sweet Moroccan pie that showcases the country's culinary finesse. Traditionally made with layers of thin pastry, it encases a rich filling of shredded meat, often pigeon or chicken, blended with almonds, aromatic spices, and a hint of sweetness from cinnamon and sugar. This delectable concoction is then encased in a flaky, golden crust. The result is a harmonious blend of textures and tastes that dance on the palate – a testament to Morocco's artful fusion of savory and sweet in its gastronomic creations.
Rfissa or Tride – A Taste of Rif Mountains' Authenticity
Venturing into the Rif Mountains, we discover the Rfissa (also known as Tride), a dish that reflects the rustic charm of the region. This traditional Berber dish is a labor of love, where layers of thin flatbread are soaked in a hearty broth made with meat, lentils, and an array of spices. The slow cooking process allows the flavors to meld, resulting in a dish that is not just a meal but an experience. Often enjoyed during special occasions or family gatherings, the Rfissa embodies the warmth of Moroccan hospitality and the richness of its cultural heritage. Each bite is an invitation to savor the authenticity of the Rif Mountains, where tradition and taste come together in perfect harmony.
The traditional method of cooking Tride involves a unique technique using a hot spherical surface known as a "gueddid" or "tahgourt." This is a special cooking instrument used in Moroccan cuisine, especially for making Tride.
his method imparts a unique flavor and texture to the Tride, and the tearing of the hot sheets allows them to absorb the flavors of the broth in dishes like Rifissa.
Moroccan Salads and Dips
Moroccan salads and dips are a vibrant and colorful celebration of the country's fresh produce and bold flavors. Often served as appetizers or side dishes, these recipes showcase the best of Moroccan ingredients and culinary preparations. Some popular Moroccan salads and dips include:
Zaalouk: a smoky eggplant and tomato dip, which I absolutely adore and find myself preparing almost weekly at home. It's just that good!
Taktouka: a spicy roasted pepper and tomato salad, which is strikingly similar to our roasted pepper salads in Spain from Valencia to Barcelona and Cadiz.
Chermoula: a versatile marinade and sauce made with herbs and spices, which is great to marinate fish before making a fish tagine.
There's a dish served to suit every taste and occasion.
Zaalouk: Smoky Eggplant Goodness
Zaalouk is a smoky eggplant dip that is perfect for scooping up with crusty bread or enjoying as a side dish. Made with roasted eggplant, tomatoes, garlic, and a blend of Moroccan spices, this delicious dipping sauce is a true testament to the flavors of Morocco. Its rich, smoky taste and velvety texture make Zaalouk a satisfying and indulgent treat that is sure to be a hit at any gathering. And for those who like a bit of heat, adding a touch of hot cayenne to your Zaalouk will take it to the next level – in my opinion, that's the best way to enjoy it!
Taktouka: A Flavorful Tomato and Pepper Medley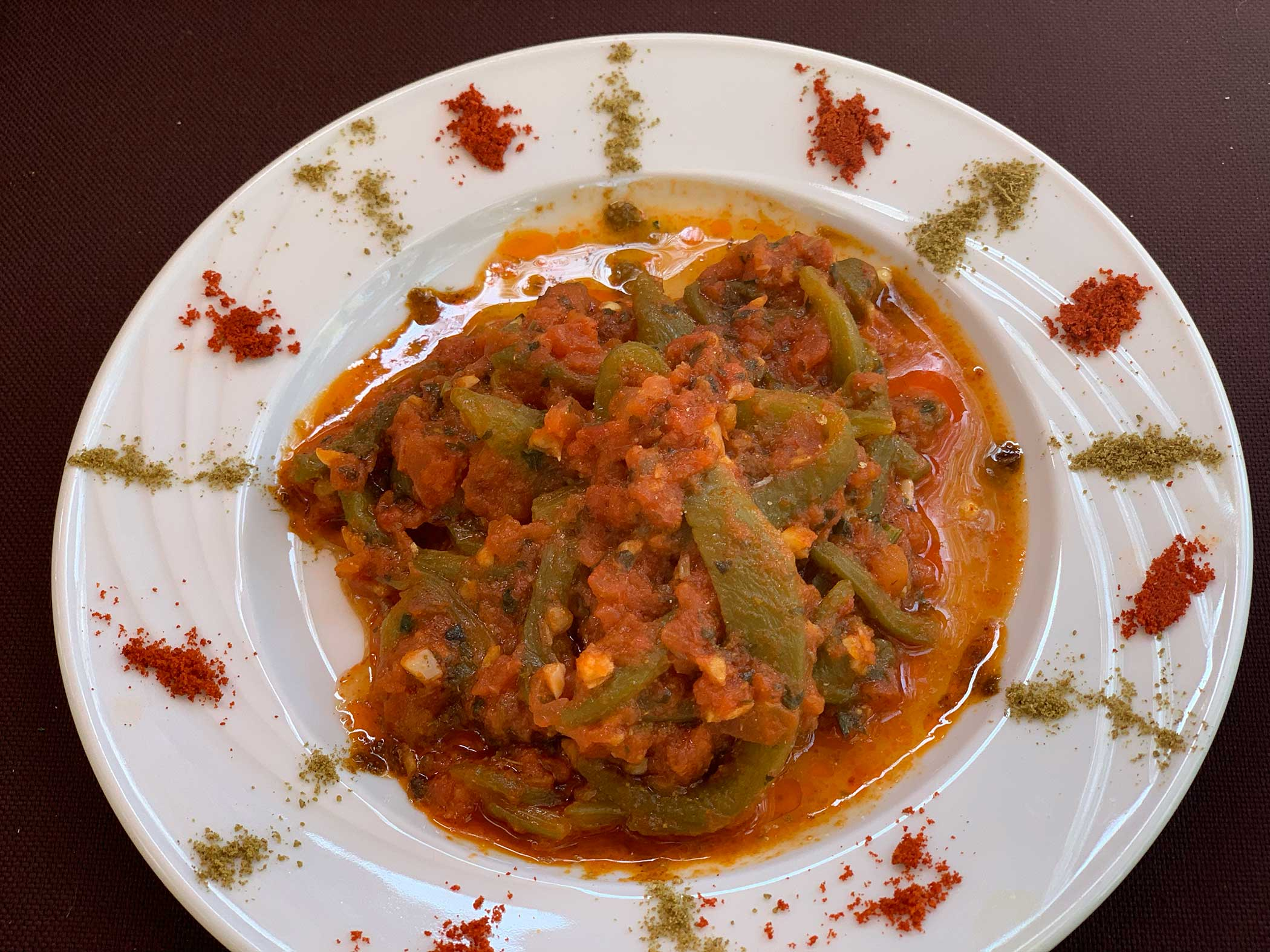 Taktouka is a flavorful Moroccan salad made with pure Mediterranean ingredients:
tomatoes
roasted bell peppers
olive oil
a medley of spices
This vibrant and refreshing dish is often served as a side or dip, providing a burst of color and taste that perfectly complements the rich flavors of Moroccan cuisine. Whether enjoyed on its own or paired with grilled meats or fish, Taktouka is a delicious and versatile addition to any meal.
Chermoula: The Perfect Fish Marinade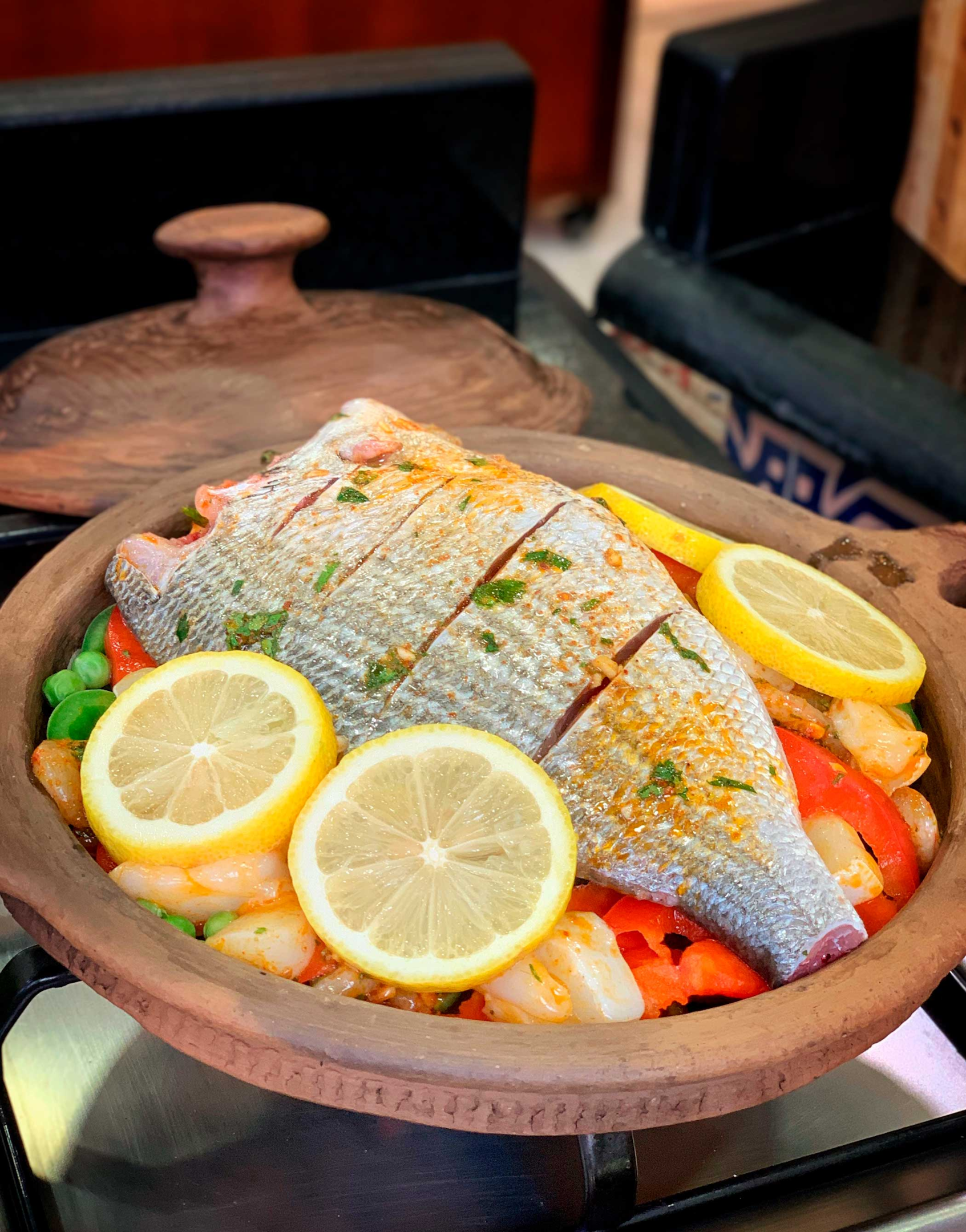 Chermoula is a versatile marinade made from herbs and spices, commonly used to flavor fish and seafood dishes in Moroccan cuisine. This aromatic blend includes:
Garlic
Cumin
Paprika
Coriander
Lemon juice
Olive oil
It adds a depth of flavor and complexity to any dish it graces.
While traditionally used with fish and seafood, Chermoula can also be used to enhance the taste of vegetables, salads, and couscous, making it a true Moroccan culinary gem.
Street Food Favorites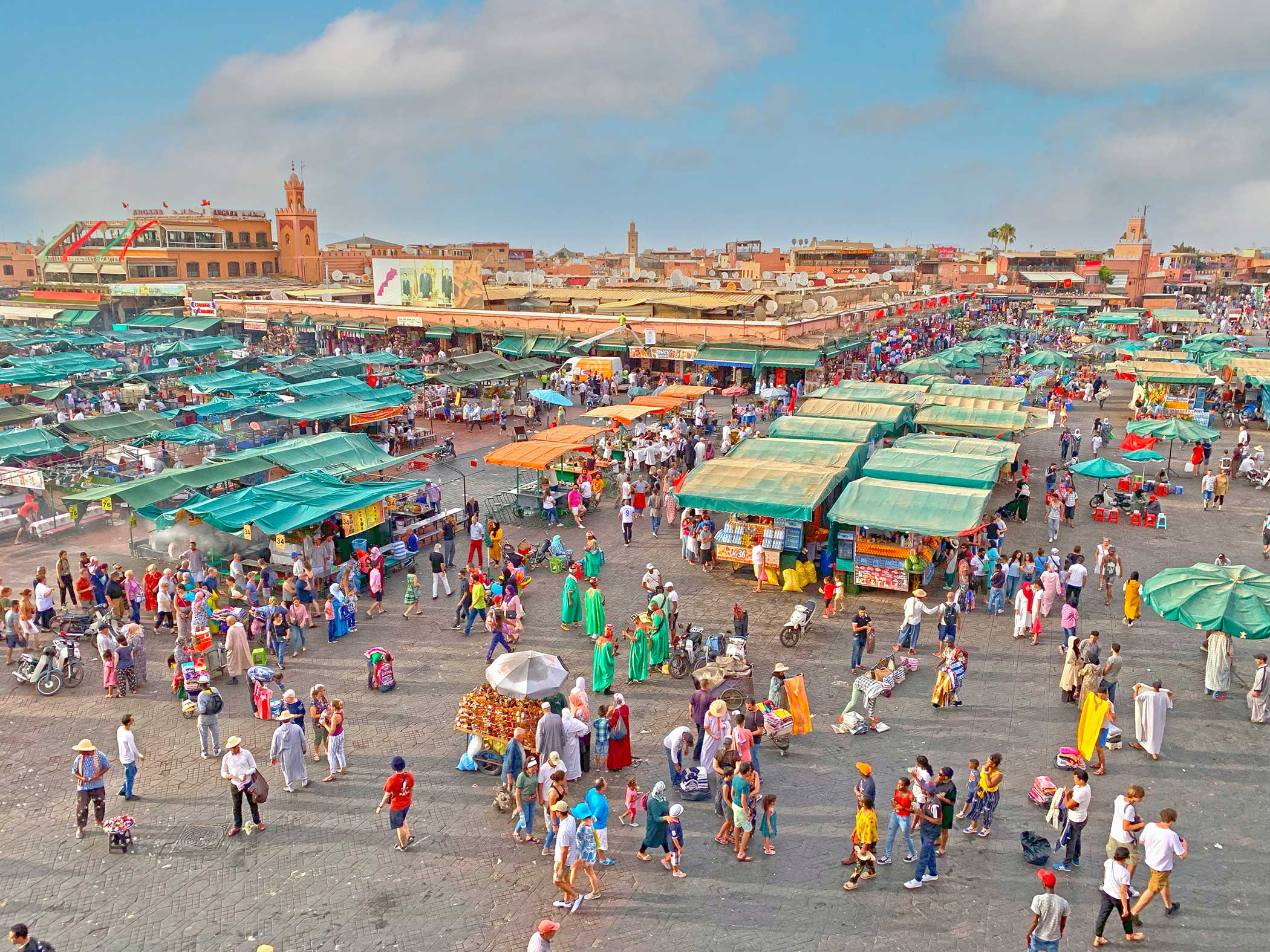 From the bustling markets of Marrakech to the narrow alleys of Fes, Moroccan street food offers a world of flavors that are as diverse as the country itself. These delicious, affordable options provide a taste of local cuisine and culture, allowing visitors to experience the true essence of Moroccan food.
Discover some commonly eaten popular street food favorites, including flaky Msemen, crispy Maakouda and the indulgent Sfenj.
Msemen: Flaky Flatbread Delight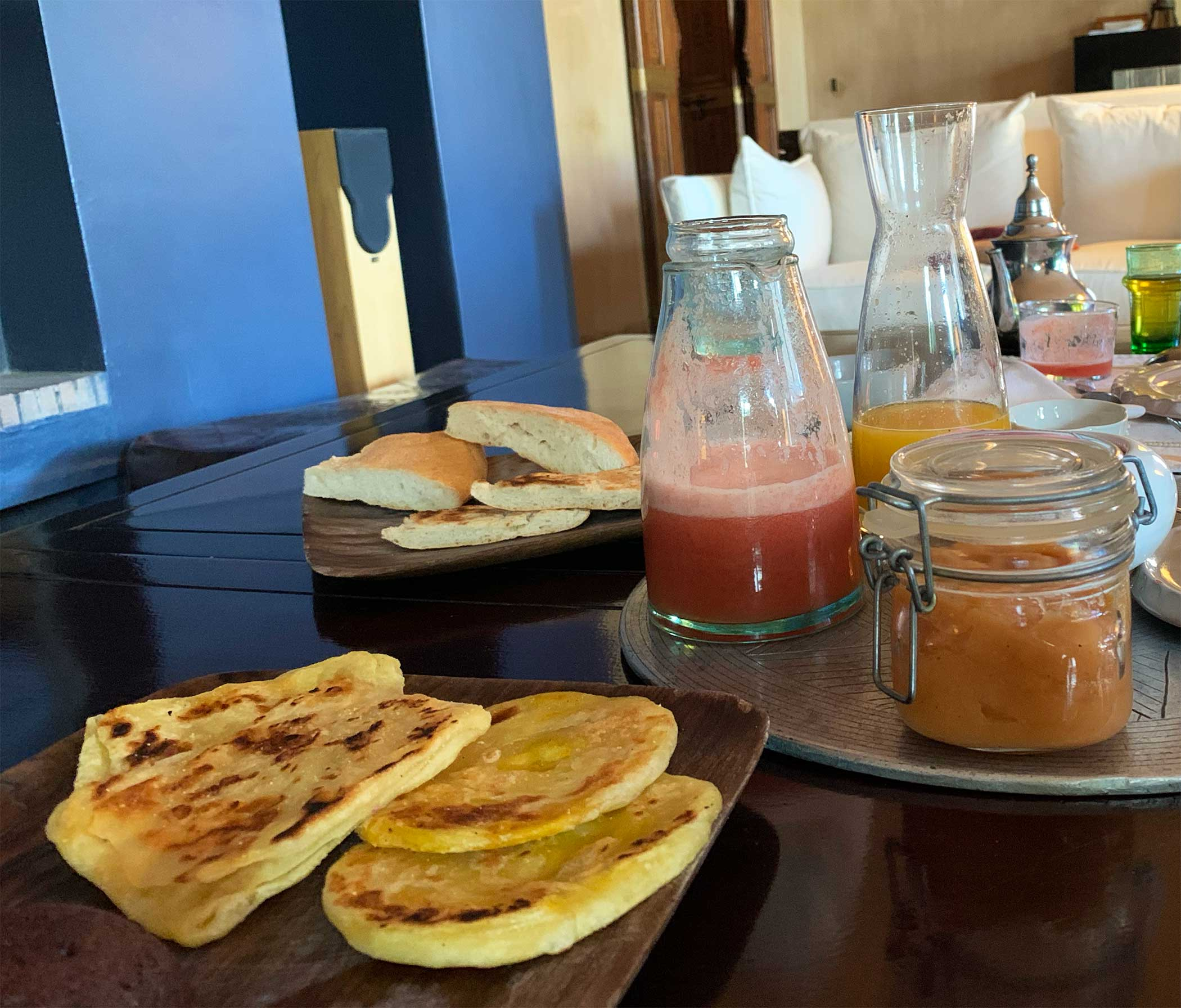 Msemen is a flaky, layered flatbread that is a beloved staple of Moroccan street food. Often enjoyed for breakfast or as a snack, this delicious bread is perfect for scooping up savory dips or sweet spreads. Made from a simple dough of flour, water, and oil, Msemen is rolled and folded to create its signature layers, then cooked on a hot griddle until golden and crispy.
One bite of this irresistible flatbread, and you'll understand why it's a favorite among locals and visitors alike.
Harcha: Semolina Pancake Comfort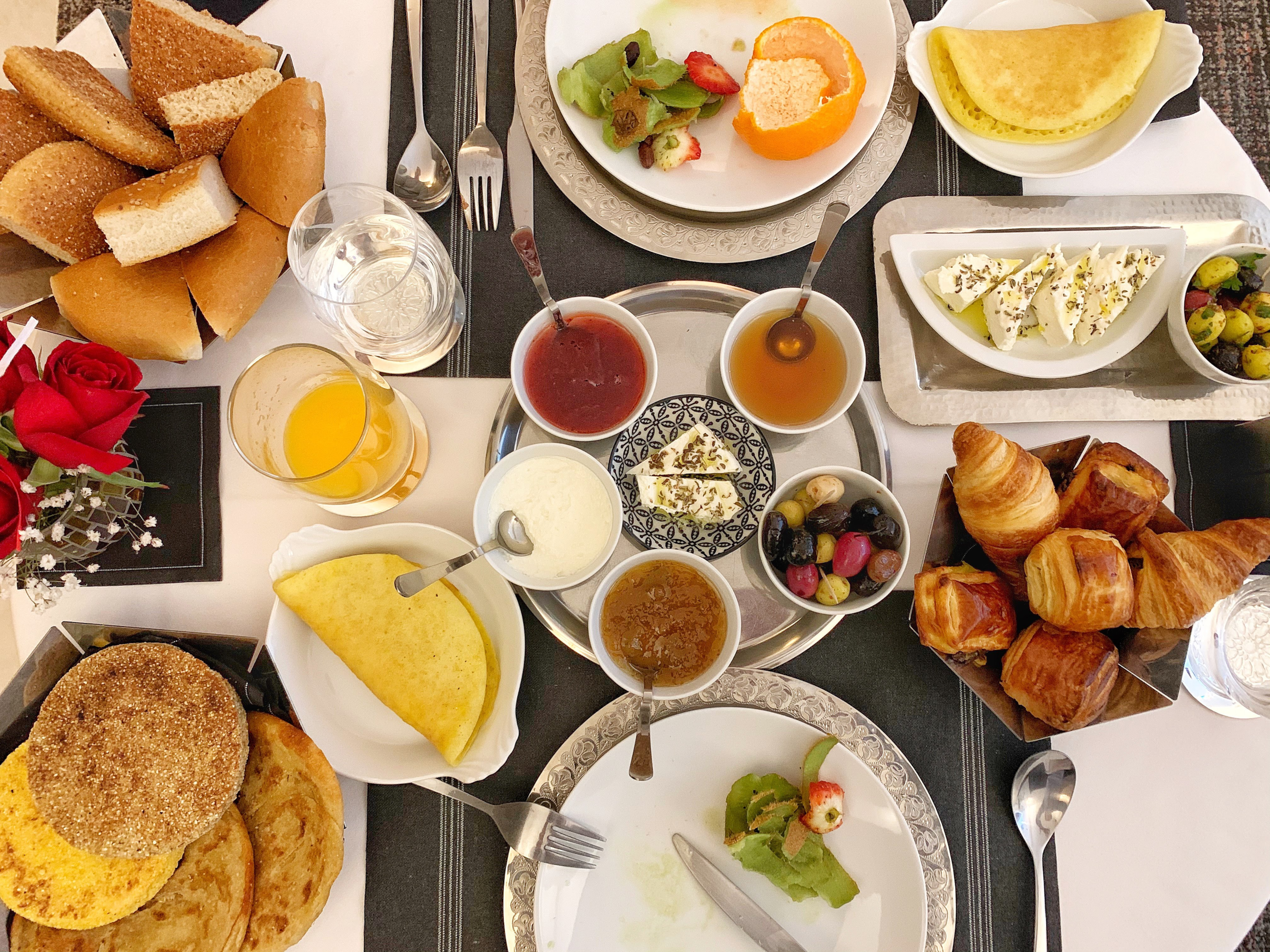 Harcha is a comforting semolina pancake that is perfect for a quick bite on the go. Made from a dough of semolina, butter, milk, and sugar, this delicious pancake is cooked on a griddle until golden and crispy on the outside, while remaining soft and tender on the inside.
Often enjoyed for breakfast or as a snack, Harcha can be served plain or with a variety of sweet or savory toppings, making it a versatile and satisfying street food favorite.
Maakouda: Crispy Potato Fritters
Maakouda are crispy potato fritters that are a popular street food in Morocco. Made from a simple mixture of mashed potatoes, onion, garlic, parsley, and spices, these delicious fritters are deep-fried until golden and served with a spicy harissa sauce. Perfect as a snack or appetizer, Maakouda are a testament to the creativity and simplicity of Moroccan street food.
Sfenj: Maghrebi Doughnut Indulgence
Sfenj are the ultimate Moroccan street food treat, offering a sweet and satisfying indulgence that is perfect for breakfast or dessert. These chewy, fluffy Maghrebi doughnuts are made from a sticky, unsweetened leavened dough that is deep-fried to perfection. Often enjoyed plain or dusted with sugar, Sfenj are a beloved dessert that showcases the sweet side of Moroccan cuisine.
Medfouna: The Berber Pizza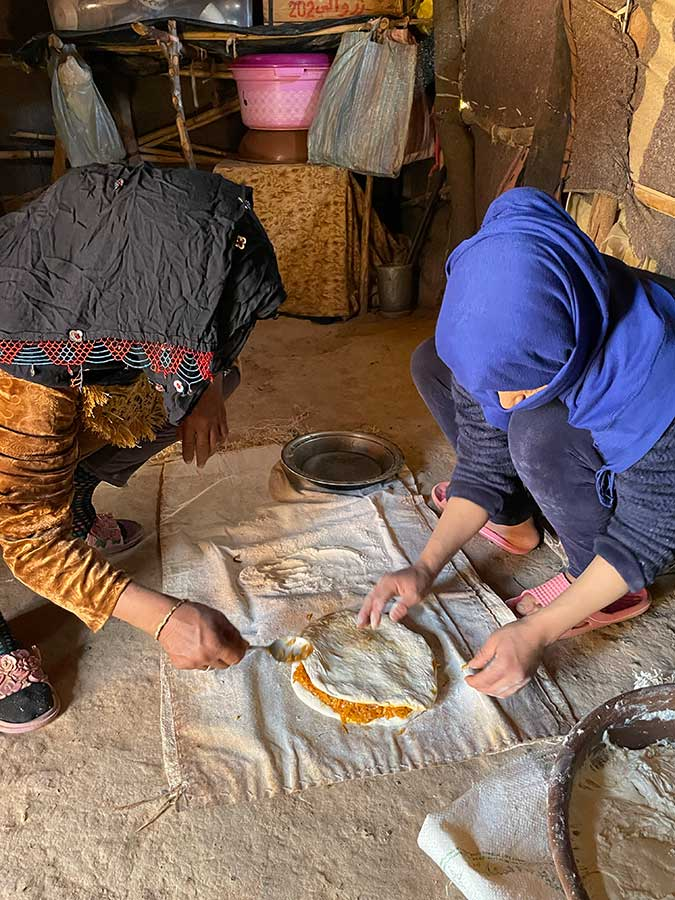 Medfouna, often referred to as the 'Berber Pizza', is a delicious treat from the Sahara region of Morocco. This dish is made by stuffing a thin layer of dough with a savory filling of onions, spices, and traditionally, lamb or beef. The stuffed dough is then covered with another layer of dough and baked until golden brown. The result is a mouthwatering, pizza-like dish that is a must-try for anyone exploring the rich culinary landscape of Morocco.
Sweet Treats and Desserts
Moroccan desserts and sweet treats offer a world of indulgence, from the golden, honey-soaked Chebakia to the delicate almond crescents of Kaab el Ghazal. These delicious confections provide the perfect finish to any meal, pairing beautifully with a steaming cup of Moroccan mint tea.
Whether you're a fan of crispy cookies or rich, nutty pastries, there's a Moroccan dessert to satisfy your sweet tooth.
Chebakia: Ramadan's Honey-Sesame Star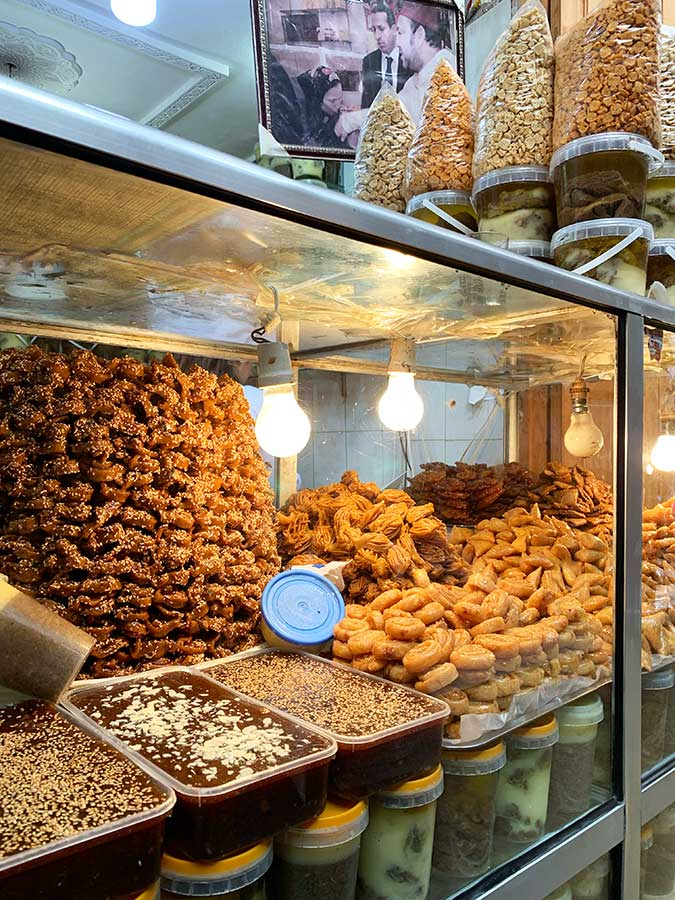 Chebakia is a deep-fried Moroccan sesame cookie that is traditionally prepared during the month of Ramadan. Its features include:
Intricate flower shape
Sticky honey glaze
Visually stunning and deliciously sweet treat
Made with a blend of ground almonds, toasted sesame seeds, fragrant spices, and honey
Symbol of hospitality and generosity
Often shared with family and friends during Ramadan
Sellou: Nutritious Energy Boost
Sellou, also known as sfouf or zmita, is a traditional Moroccan sweet treat. It's a unique and flavorful blend of toasted sesame seeds, almonds, flour, and spices, primarily cinnamon and nutmeg. This mixture is combined with honey or syrup to create a dense, dough-like consistency. The ingredients are:
Roasted flour
Butter
Honey
Fried almonds
Toasted unhulled sesame seeds
Spices
Sellou is a popular dish during special occasions, especially during Ramadan, and it's believed to provide a quick source of energy due to its high nutritional value.
Kaab el Ghazal: Almond Crescent Cookies
Kaab el Ghazal, also known as Gazelle Horns or Cornes de Gazelle, are a traditional Moroccan almond-filled crescent-shaped cookie. These delicate and delicious cookies are made with a flour-based dough and filled with a sweet almond paste that is scented with orange flower water and cinnamon. Often served during special occasions and celebrations, Kaab el Ghazal are a delightful addition to any dessert spread.
Ghoriba Bahla: Shortbread with a Twist
Ghoriba Bahla are Moroccan shortbread cookies that offer a unique twist on a classic treat. Made with ground almonds, toasted sesame seeds, and fragrant spices, these cookies feature a cracked surface that is a testament to the perfect balance of ingredients used in their creation.
Whether enjoyed with a cup of tea or as a sweet treat on their own, Ghoriba Bahla are sure to be a hit with cookie lovers everywhere.
Mint Tea: Morocco's National Drink
Mint tea is more than just a beverage in Morocco; it is a symbol of hospitality, friendship, and tradition. This sweet and refreshing drink is made by steeping green tea leaves with fresh mint leaves and sugar, and is often served in a traditional Moroccan teapot. Enjoyed throughout the day and at social gatherings, mint tea is an integral part of Moroccan culture and a must-try for anyone visiting the country.
—
In summary, from the fragrant spices of tagines to the fluffy grains of couscous, Moroccan cuisine is a veritable feast for the senses. Each dish tells a story of the country's rich history, diverse cultural influences, and culinary traditions, offering a taste of Morocco that is sure to captivate and inspire. Whether you're savoring a steaming cup of mint tea or indulging in a sweet treat, the flavors of Morocco are a celebration of life and a testament to the warmth and hospitality of its people.
Frequently Asked Questions (F. A. Q)
1. What are the two most traditional Moroccan dishes?
Undoubtedly tagine is one, it refers to both a North African stew and the special pot in which it is cooked. The dish is named after the pot, which has a conical lid that allows the steam to rise, condense, and fall back into the stew, keeping the food moist.
The second in the list is Couscous, a staple in Moroccan cuisine. It is made from steamed, crushed wheat and often served with a stew on top. The couscous is steamed several times to achieve its light and fluffy texture. In 2010, traditional knowledge, skills, and rituals associated with the preparation and consumption of couscous were inscribed on UNESCO's Representative List of the Intangible Cultural Heritage of Humanity. This recognition acknowledges the cultural significance and craftsmanship involved in the preparation of couscous.
2. What is a typical Moroccan breakfast?
Start your day like a true Moroccan with a delicious breakfast featuring fresh cheese, olives, a variety of Moroccan breads, honey, olive oil, fruits, and very often, eggs, drinks, pastries, dips, spreads, and nibbles from traditional Moroccan cuisine.
3. How spicy is Moroccan food?
Moroccan food varies widely in spiciness, ranging from mildly seasoned to very spicy. While many dishes incorporate a blend of spices like cumin, coriander, and cinnamon for flavor without intense heat, some traditional dishes and sauces, such as Harissa, can be quite spicy due to the use of chili peppers. The spiciness level often depends on personal preference and regional variations, so it's advisable to inquire about the spiciness of a specific dish when dining in Morocco if you have concerns about its heat level.
4. What are some popular Moroccan street foods?
Experience the deliciousness of Morocco's street food like never before with Msemen (flaky flatbread), Harcha (semolina pancake), Maakouda (crispy potato fritters), Sfenj (Maghrebi doughnuts) and Kefta skewers, typically grilled and served with bread and condiments.
5. What are the key spices used in Moroccan cuisine?
Experience the vibrant flavors of Morocco with cumin, coriander, cinnamon, ginger, paprika, turmeric, and saffron!
Indulge in an irresistible culinary escapade through the exotic flavors of Morocco! Join us for a tantalizing journey where gastronomic delights blend seamlessly with the allure of fine wines. Let your senses be seduced by the rich aromas and exquisite tastes, promising you an unforgettable odyssey through the heart of Moroccan cuisine. Surrender to the allure of Morocco's culinary secrets and let the adventure begin.
RELATED CONTENT